Monday, September 12, 2011
7pm SHARP - 9:30pm
Peekskill, NY
'James Durst Welcomes' HUE MANATEE'S QUEST, James' original folk/world musical Story Time w/Uncle James & Special Guests: JIM SCOTT, CATHERINE MILES, HONOR FINNEGAN, MICHELE RUBIN & RICK GEDNEY, PAUL SILVERMAN & ERIC PUENTE
201 S. Division Street & Esther, Peekskill, NY 10655 USA
phone: 914-737-1701
Price: $10.00
website: www.beanrunnercafe.com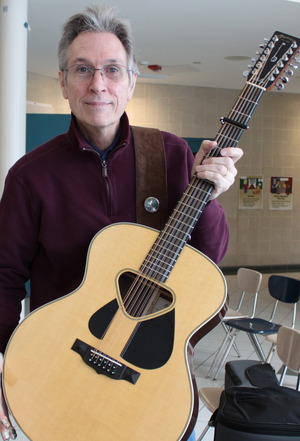 Phone ahead for Advance Reservation admission of $8
SPECIAL PRICE for TRIBES HILL Members $5
Come wearing pajamas for FREE admission

Journey with us through the Imáji Nation to the Galápagos. Imagine 'The Lion King' meets 'Candide.' Or NPR's 'Selected Shorts' with SONGS!

"My folks named me Herald, My friends call me Hue, So can you"
With these words, our gentle hero HUE MANATEE introduces himself to a new friend, the somewhat cynical yet endearing itinerant musician FLICKATI CRICKET, who has witnessed Hue's close call with a boat propeller. The two share concern for their deteriorating environments and together they seek the insight and counsel of wise old LEON CHAMELEON, a renowned teacher and change agent, who invites the two youngsters to accompany him on a long-dreamed-of pilgrimage to his ancestral homeland, the Galápagos. Along the way they meet and share songs and various perils with such charismatic characters as WHALE, a dolphin trio ('TRIO LIFE'), SHINING EAGLE, shaman of the Northern Hemisphere Imáji Nation and ELLA CONDOR, medicine woman of the Southern Hemisphere Todos tribe. At last, upon reaching their destination, they are greeted by the popular Galápagosian vocal quintet, ACAPELLAGO, who confirms their innermost awareness that all of Life is inextricably interwoven into a tapestry of magnificent colors and textures, each complementing the others, each interdependent with the rest.
With memorable melodies, evocative words and characteristic humor, James had created a rich and varied musical experience for planetary citizens of all ages, underscoring themes of environmental sustainability, unity in diversity, friendship and peace.
James created HUE MANATEE'S QUEST over a period of 15 years. This will be its Westchester premiere.
"Yesterday, I set up a reclining chair on the lawn, poured a beer and put on your Hue Manatee's Quest CD, and was blown away. Your latest composition is outstanding -- on many levels -- creatively, artistically, intellectually, musically. You managed to bring to light the universal questions and themes that are asked by all thinking beings. That's an ambitious undertaking for any art form. To do so in an engaging musical form, with a simple story line that appeals to all ages is an outstanding achievement. The artwork is also outstanding. The wordplay I expected from you, but you outdid yourself on this one. It's truly your greatest artistic achievement. Congratulations."
--Joe Cromwell, Singer-Songwriter, Hudson Valley NY
"I never had the nerve to act in a play in front of an audience. It is great to discover recordings of live plays at any opportunity, and anyone who appreciates Broadway productions will love 'Songs from Hue Manatee's Quest.' James Durst has freed the limits of the imagination with his latest effort, and the entire cast seems very well aware they are participating in a work of greatness. The flow of the production is flawless, with the end of the story coming far too soon. There were at least four great singers in the production, none of which would surprise me to be headlining on The Great White Way for years to come. Make a space in your home for 'Hue Manatee's Quest' today." --CASHBOX Magazine
"My favorite is 'Lost In The Kuda Shuda Woods.' I've listened to that a number of times. It's a real masterpiece. It's brilliant." --Bob Rafkin, Award-winning singer-songwriter
JAMES DURST has quietly traversed the planet since 1965, performing for rapt audiences of all ages in all 50 states and 45 countries throughout the Americas, Europe, Scandinavia, the Middle East, Southeast Asia, in Russia, Azerbaijan, Japan, Korea and most recently, several times in India and Israel. He draws from a rich and ever-evolving repertoire of distinctive original and gathered songs in more than two dozen languages that reflect a global perspective and underscore the interconnectedness we share with all of life. With more than a dozen recordings to his credit, he engages each disparate audience in a participatory journey distilled from his travels, bringing us closer to our world and each other. For more about James & his music visit www.JamesDurst.com.
"Words fail to come which express adequately my gratitude for your gift of song. If it was just the songs, it might be easier, but you offer much more. The phrase 'the singing of our lives' comes to mind. You sing our highest hopes and profoundest joys and we come to know our lives in a deeper way."
— Bruce Robertson, The Institute of Cultural Affairs, Los Angeles