Friday, December 2, 2011
7:30pm
Garden City, NY
Anna Dagmar & David Goldman
223 Stewart Ave, @ the corner of Nassau Boulevard, Garden City, NY
phone: 516-248-8891
Price: $18.00
website: www.GardenStage.com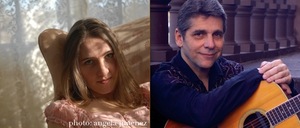 Anna Dagmar and David Goldman take the Garden Stage
Singer-Songwriters with roots in Jazz, Classical, World and Folk Music

GARDEN CITY, NY. – November 16, 2011 – Garden Stage is proud to present Westchester-based guitarist/singer-songwriter David Goldman in co-bill with NYC pianist/singer-songwriter Anna Dagmar on Friday, December 2, 2011, at 7:30pm. They will be joined by cellist Martha Colby.

Of a mixed Jewish-Italian-Albanian background, David Goldman grew up on Long Island listening to classical, opera, international and American folk music, pop/jazz, blues and rock and roll. He then studied abroad in India, Mexico, and Japan, and has since traveled to France, Italy, England, Spain, Portugal and Turkey. David's music has been strongly influenced by World and American music. His latest CD Light In The Tunnel is David's deeply personal journey on the wings of a finely woven tapestry of voices and music, and charted #1 on Roots Music Report's NY Chart and #10 Cashbox Magazine-Roots-Americana-Country Top 50. David has opened for Kenny Loggins at Tarrytown Music Hall, and performed at The Living Room, Pleasantville Music Festival, and Tribeca Performing Arts Center. He has been interviewed on a number of radio stations in New York, Boston, Connecticut and Colorado. http://www.DavidGoldman.com

Born in England and raised in MA, Anna Dagmar composes piano-woven folk/pop that draws from influences including Debussy, Keith Jarrett, Joni Mitchell, Billy Joel and Anais Mitchell. A graduate of the Eastman School of Music, Dagmar's rich piano accompaniments paint little musical worlds for each song. Her melodies flow freely, as though married to the words. Dagmar has released three CD's and the Anna Dagmar Songbook. Let the Waves Come in Threes (2009) was produced by Ben Wittman (Patty Larkin, Jonatha Brooke), charted #6 on the National Roots Music Report, and received five awards in the 2011 Mid-Atlantic Songwriting Contest. This fall she was accepted into the BMI Musical Theatre Writing Workshop and will also be Composer-in-Residence for a songwriting program at The Nightingale-Bamford School. Dagmar has performed and recorded with Lucy Kaplansky, Ellis Paul and Natalia Zukerman. Last December she made an impressive Garden Stage debut playing with Joe Crookston. http://www.AnnaDagmar.com

Anna and David met on a cold winter evening three years ago at a songwriter showcase at Dixon Place, an experimental theatre on the Lower East Side. David marveled at Anna's subtle piano arrangement and mellifluous voice; Anna was moved by David's powerful, heartfelt singing. They have since become good friends and have performed together on a number of occasions. On Dec. 2 David and Anna will be collaborating on a number of songs.

"Anna Dagmar's album showcases her gorgeous voice, lyrical piano stylings and lovely, intelligent songs."––Lucy Kaplansky

"David Goldman has a gift for channeling his love of the whole wide world of music into well-crafted songs, and he has the voice to do those songs justice."—John Platt, WFUV 90.7FM

The Garden Stage is located within the Unitarian Universalist Church at 223 Stewart Ave. (at Nassau Blvd.) in Garden City, NY. Tickets are available $18 in advance / $20 at the door. The event begins with an open mic (sign up at 7pm). For tickets and information contact calendar@uuccn.org.