Urban H2O
Tribes Hill brings Gathering Time and Mike Agranoff to Urban H2O
Saturday, March 19, 2011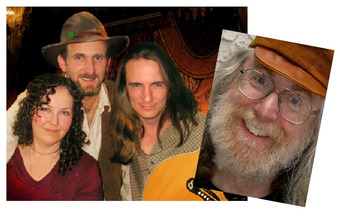 Don't miss this chance to see Gathering Time and good friend Mike Agranoff perform solo and together on the Urban H2O stage!
"Gathering Time has harmonies that can charm the birds out of the trees, strong original songs, and a savvy repertoire of cover songs, ranging from traditional folk to classic rock." John Platt, WFUV-NY
Take one-part Crosby, Stills and Nash; a dollop of Peter, Paul and Mary; and a few morsels of The Byrds, Joni Mitchell and James Taylor, and you get Gathering Time – a head-turning folk-rock harmony trio described recently as "getting a whole beehive-full of buzz" on the Northeast regional folk scene.
The trio has recently performed with Kim & Reggie Harris, Livingston Taylor, Gandalf Murphy and the Slambovian Circus of Dreams, Mad Agnes, Christine Lavin, Tom Chapin, Sloan Wainwright, Joe Jencks and Mike Agranoff, to name just a few, at venues up and down the U. S. east coast.
"Gathering Time is right up there with the ones we all know – they are the next generation of great Trios with meaningful music performed in awesome harmony." Bill Hahn, WFDU
"Gathering Time … has perfected two separate but related art forms: three part harmony and having a ball on stage! When they harmonize, some sort of fundamental, cosmic concordance occurs that makes you very happy that you have ears." MaineFolkMusic.com
"Mike Agranoff has great songs and riveting stories—he is a multi-instrumentalist and funny as hell!"
Mike Agranoff's material encompasses traditional ballads and tunes to Tin Pan Alley and spoken pieces, all delivered with skillful guitar and concertina accompaniment, often a sly twinkle in the eye, and always a telepathic transmittal of the essence of each song.
"You wil never think of folk music the same after you attend a Mike Agranoff concert. Quite possibly the most reverent irreverent musician on the planet, Mike is absolutely irrepressible as he turns that genre inside out and back again. His parodies are legendary for their groan factor and insightful brillance. But Mike is just as apt to restore an ancient tune to its original splendor with his artful and deft guitar. Mike Agranoff has been described as a 'jokester-folkster' but that is just part of his appeal. His eclectic love of all things musical is impossible to conceal." Tommy Rinaldo, Flying Cat Music, Phonecia, NY
"Mike is a one-of-a-kind folk impresario! His live show bounced us from traditional ballads to parodies to Joplin to a Bach violin concerto played on a concertina.An evening we won't soon forget." Folk Music Society of Huntington, NY
All shows open with a Tribes Hill song share, bringing together our family of performers for a spontaneous musical exploration of the human experience through song. Urban H2O presents these rising Hudson Valley artists in an intimate and informal setting.
"Tribes Hill is a vibrant part of the folk tradition." –John Platt, host of WFUV's "Sunday Breakfast" show
TICKETS $10
Includes FREE beer from our sponsor—Hudson Valley's award-winning Captain Lawrence Brewing Company—bring your own mug! We also have hot stromboli and fresh baked sweets available for purchase. Get'm while they last!
URBAN H20 is a collaborative creative venture between Tribes Hill and the Beczak Environmental Education Center. We are a new performance venue presenting the Hudson Valley's finest regional artists. Shows are the third Saturday of every month.
Steps from Yonkers Amtrak and Metro-North station. Urban H20 is located at Beczak Environmental Education Center, along the west side of the Hudson River at 35 Alexander St., Yonkers NY 10701. Ample free parking.
upcoming shows:
April 16 - Rob Morsberger / Ina May Wool
May 21 - Matt Turk / Tom Breiding