Tribes Hill Holiday Gathering at the First Unitarian Society in Hastings
Monday, December 1, 2014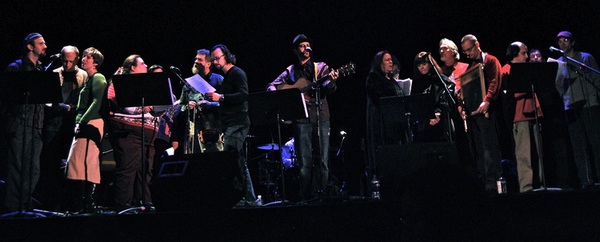 Monday, December 1st, 2014 6:00 pm
Tribes Hill Holiday Gathering and Solstice Show Rehearsal
The First Unitarian Society (Home of Common Ground Coffee House)
25 Old Jackson Avenue
Hastings-on-Hudson, NY 10706

The Tribes Hill holiday gathering in December 1st and its time to organize the gathering feast! Last year was a wonderful, thoughtful, bountiful spread that was enjoyed by many. Let us know if you are attending and what you can commit to contributing so that we can have a similar well-rounded culinary celebration.

This year the Tribes Hill Holiday Gathering will not include a run-through/rehearsal of the concert, but the evening will be filled with music and camaraderie, so bring your instruments and share. If you were selected as a Solstice performer, it is an opportunity to connect with your musical partners or invite musical partners to share the stage with you. Back up singers, bass players, instrumental soloists - there is a lot of talent to connect with and collaborate!

Please email Julia directly at jbordenaro@yahoo.com if you are attending and what you are contributing to the potluck. Please be specific and hold tight to that thought so we can make sure all our bases are covered. We have palates and preferences of all kinds. If its dairy free or vegetarian or gluten free, let me know that as well.

It's going to be a great night of music and celebration! Let us know if you're coming!