Sunday, May 22, 2022
1 p.m. to 4 p.m.
Hillsdale, NY
Fred Gillen Jr Solo-acoustic
32 Anthony Street Hillsdale, NY
phone: 518-303-8080
website: roejanbrewing.com/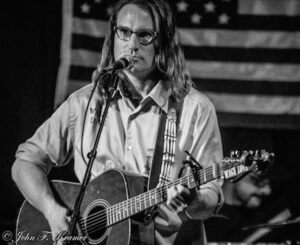 Outdoors weather-permitting (it has to rain pretty hard to be moved in- there's a very large, covered outdoor space.) Not only their own great beer, but the food is really good!
NYFA (New York Foundation For The Arts) grant recipient Fred Gillen Jr has released eleven full-length albums, to great critical acclaim. He has performed all over the U.S. and Europe as a solo artist, his live performances are spontaneous and full of storytelling, and he enjoys audience participation. He is equally comfortable playing at a Theatre, festival, or museum, as at a farmers market, coffeehouse, or brewery. His songs have been featured on ABC's "All My Children," NPR's "Car Talk," and CMJ's New Music Marathon Sampler. From 2017 to 2019 he was music director of the group The Greenheart, traveling to Nepal four times and India once, performing concerts to raise awareness of environmental activism. In 2012 his version of Woody Guthrie's "I Ain't Got No Home" was featured on "Pete Remembers Woody," a collection of Pete Seeger's spoken stories about Woody Guthrie, interspersed with various artists' renditions of Guthrie's songs. Besides playing with his heroes like Pete, he's opened for some great artists such as Merle Haggard, Todd Rundgren, and the David Bromberg Big Band. In both his own songs and the songs he chooses to cover he incorporates elements of a huge swath of folk, rock, roots, and Americana music. Though he writes and sings songs which cover a huge variety of lyric topics, his over-arching message is simple: "we are all in this together."
export this event to my calendar