Friday, August 26, 2022
Olivebridge, NY
Summer Hoot!
The Ashokan Center
477 Beaverkill Rd. Olivebridge, NY 12461 United States
Purchase tickets online click here to purchase tickets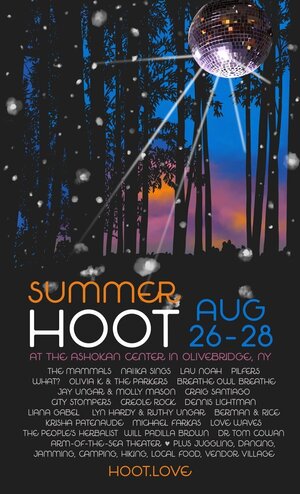 Summer Hoot - August 26-28
The Mammals, Naiika Sings, Lau Noah, Pilfers, What?, Olivia K & The Parkers, Jay Ungar & Molly Mason, Craig Santiago, Breathe Owl Breathe, Creole Rock, City Stompers, Fodhla, Dennis Lichtman, The People's Herbalist, Will Padilla Brown (Mycosymbiotics), Dr. Tom Cowan, Lyn Hardy & Ruthy Ungar, Liana Gabel, Berman & Rice, Love Waves, Two For the Road, Michael Farkas (The Wiyos), Serious Juggling & Comedy, Arm-of-the-Sea Theater, & more


The Summer Hoot offers advance weekend passes for $80 per adult. Children are admitted free! Advance passes offer guaranteed parking and admission and do not include food or camping. "Pay what you can" one-day, two-day, and weekend passes are also available by suggested donation at the gate.


Camping at the Ashokan Center is available for $50 per site. Hostel-style indoor lodging is also available for $50 per bunk; bunks include a mattress and pillow but attendees should bring their own toiletries, towel, pillowcase, and bedding or sleeping bag. Saturday and Sunday breakfast is included in the cost of camping or lodging.


For those who would like to support the Hoot by giving more—keeping the event accessible for all—we offer the Pewter Posse ticket. In addition to their weekend pass, Pewter Posse donors are invited to a VIP wine and cheese reception Friday at 5pm in the Pewter Shop, with live music from Jay & Molly and friends; they will also receive a special Hoot gift and breakfast Saturday and Sunday. Pewter Posse passes are $200.
Volunteers who work two 4-hour shifts on jobs including gate, EMT, trash/recycling, parking, or kitchen will receive a free weekend pass in exchange for their time.
export this event to my calendar