Friday, April 24, 2015
8pm to 11pm
Astoria, NY
Curtis Becraft & the Dilettantes!
25-27 Broadway Astoria, NY 11106
phone: (718) 440-3231
website: www.thestrandsmokehouse.com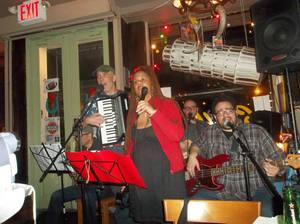 The mighty Dilettantes return to the Strand Smokehouse BBQ for an afternoon of original and classic rock n roll! Featuring Ethan Hartshorn on drums, percussion, guitar, ukulele and voice; Evan Behlivanis on bass guitar and voice; Oscar Rodriguez on electric and acoustic guitars and voice; Carla Lynne Hall on percussion and voice; and Curtis Becraft on electric and acoustic guitars, mandolin, accordion, harmonicas and voice. Playing original's from Curtis' 2010 record Tales of a Traveler, and also new songs that will be recorded soon for his next record; and also classic covers featuring lead vocals from all the Dilettantes. In fun downtown Astoria - big big fun place with lots of great food beer whisky, we hope to see you!!!
export this event to my calendar