Saturday, September 26, 2015
8 PM to 10:30 PM
Park Ridge, NJ
Ellis Paul in Concert
131 Pascack Rd Park Ridge, NJ 07656 usa
phone: 201-573-0718
Price: $20.00
Purchase tickets online click here to purchase tickets
website: www.cafeacoustic.org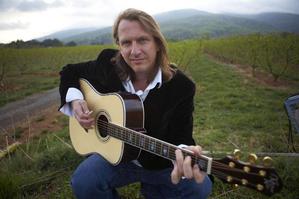 The Acoustic Café Music Series is excited to welcome singer/songwriter Ellis Paul in concert, presented in the sanctuary of the First Congregational Church in Park Ridge. Special guest Rebecca Loebe will open the show.

Some artists document their lives through their music. Others chronicle their times. It's a rare artist who can do both, telling their own story through songs that also encapsulate the essence of people and places who have helped define their era over-all. Ellis Paul is one of those gifted singer/songwriters. Though some may refer to him as a folksinger, he is more a singular storyteller. His new album, Chasing Beauty, is a set of songs which detail, in typical Paul fashion, stories of people and places that reflect larger truths about us all.

Ellis Paul's songwriting credentials are unassailable. They are as genuine as the fifteen Boston Music Awards he has earned, as indelible as the tattoo of Woody Guthrie that adorns his arm, and as authentic as the musical roots he draws upon with every note he plays. He emerged out of the Boston music scene during a time when contemporary folk was beginning to come into the mainstream. Now, Ellis has 20+ years of playing 150 to 200 shows annually, 19 record releases, a documentary film, a book of poems & short stories, an award winning children's book project, as well as songs featured on Hollywood soundtracks.

"Despite his success and sense of history, Mr. Paul remains an artist with his eye on the future and an interest in discovering the transformative potential in his music."
- The New York Times-

Special guest Rebecca Loebe has won numerous awards for her songwriting, including the prestigious Kerrville New Folk Award. In 2011 she was a featured contestant on the first season of "The Voice US," winning a spot on Team Adam and an iTunes Top 10 single worldwide with her captivating re-imagination of Nirvana's "Come As You Are."

First Congregational Church, 131 Pascack Rd, Park Ridge, NJ ( nearby OLM Academy, just down the street)
Tickets: $20 advance online $25 at the door www.cafeacoustic.org 201-573-0718
Proceeds will benefit the OLM Haiti scholarship fund and Family Promise,
which helps homeless and low-income families achieve sustainable independence.


Doors open at 7:30 PM. All ages. Refreshments, wheelchair accessible, free parking.


export this event to my calendar