Saturday, December 19, 2015
8pm
Beacon, NY
A Very Slambovian Christmas!
The Towne Crier Cafe - Beacon
379 Main Street Beacon, NY
phone: 845 855 1300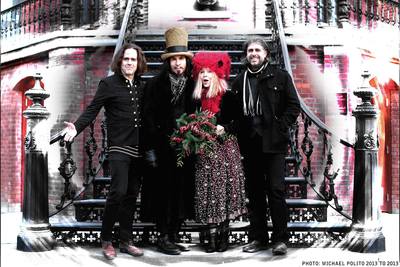 The music of THE SLAMBOVIAN CIRCUS OF DREAMS has been variously described as "hillbilly-floyd," "folk-pop," "alt-country, roots-rock," and "surreal Americana;" a clear indicator of its singularly indescribable uniqueness. Dancing freely between all existing religious and philosophical mythologies, the music is uplifting, empowering, and a lot of fun.

Formed in Sleepy Hollow, New York over a decade ago, The Slambovian Circus of Dreams (AKA The Grand Slambovians) pioneered the alt-folk/americana genre, staying on the fringes of the music industry and under the radar while producing several critically acclaimed studio albums.

Headlining major music festivals and venues across the US,Canada and UK, they built their career from the ground up with a loyal fan base supporting them all the way. Fronted by songwriter Joziah Longo (vocals/guitar/harmonica) whose voice is "Soothing and bewitching as a snake oil tonic" says The Big Issue, UK and goes on to say "the entire root system of Rock Family Trees is embedded in his voice".

The band features guitarist/mandolin player Sharkey McEwen (think lovechild of David Gilmour and Duane Allman); multi-instrumentalist Tink Lloyd (accordion, cello, uke, theremin, melodica); and Eric Puente (Percussion).
export this event to my calendar