Saturday, April 16, 2016
10:00 a.m., concert at 7:30 p.m.
Peekskill, NY
The Say NO Say YES Fest to Benefit Resist AIM
1008 Brown Street, Peekskill, NY
website: www.facebook.com/resistaim/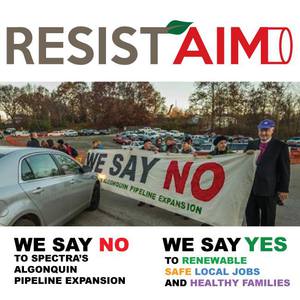 10 a.m. - 2 p.m. – It's family and children's time, with a carnival of fun, sustainable crafts and activities, and nonprofit groups presenting clean and renewable forms of energy. At 11 a.m. the Ecos Family Circus Show takes center stage at the Paramount to present different circus acts, puppeteers and more.

3 p.m. – We'll have a panel of speakers including Angela Fox of The Mother's Project talking about the pipeline, its dangers, and what we can do about it, followed by a screening of Oscar nominee and anti-fracking activist Joshua Fox's new film, "How to Let Go of The World (And Love All the Things Climate Can't Change)."

7:30 p.m. – We've planned an activist-oriented show filled with music and comedy with surprise guests both musical and political. Reverent Billy's rollicking Stop Shopping Choir will lead us into the evening festivities, followed by Grammy award-winning Lisa Gutkin, violinist with the acclaimed group the Klezmatics, Jenny Murphy and a community children's chorus, and Guthrie's Ghost (who includes Fred Gillen Jr., Steve Kirkman, Amy Fradon, and David and Jacob Bernz). The night concludes with celebrated political comedian Ted Alexandro who has just toured as opener to Louis CK.
Proceeds from this event support ResistAIM's ongoing organizing and actions to "Say NO" to Spectra Energy's Algonquin Incremental Market (AIM) project.
ResistAIM's Say NO Say YES Fest on April 16 intends to "Say YES" for activation, outreach, and renewable energy education.