Sunday, April 15, 2018
5:00PM
Hastings-on-Hudson, NY
ITAMAR EREZ
47 Jefferson Avenue, Hastings-on-Hudson, NY 10706 United States
phone: 347-MUSIC-76
Price: $20.00
website: www.riverspiritmusic.com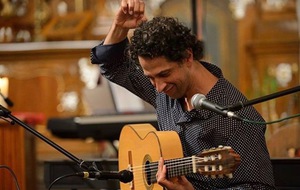 To capture the essence of the music of Itamar Erez is to be taken on a journey where different cultures meet in harmony. Itamar's music holds a depth and sensitivity that touches listeners deeply; It blends the delicateness of Middle Eastern music, the freedom found in Jazz and the passion of Flamenco, creating a unique sound all his own.

Recipient of the 2014 ACUM Prize for Special Achievement in Jazz and the prestigious 2014 Landau Prize, Itamar Erez is an internationally renowned composer and guitarist who has shared the stage with such musicians as Omar Faruk Tekbilek, Tomatito, Avishai Cohen, Jean-Louis Matinier, Zohar Fresco, and others.

Itamar has performed in Canada, USA, Germany, Holland, Austria, Cyprus, Israel, India, Tunisia and Colombia.

Itamar comes to us the day after performing at Zankel Hall (at Carnegie Hall) with Omar Faruk Tekbilek!!!

Doors open/potluck dinner at 4:00pm
Suggested Donation - $20
Presented by