Friday, April 20, 2018
8 p.m.
Peekskill, NY
Songwriters in the round with Brooke Campbell, Linda Draper, and Fred Gillen Jr
201 South Division Street, Peekskill, NY 10566 USA
phone: (914) 737-1701
Price: $10.00
website: beanrunnercafe.com/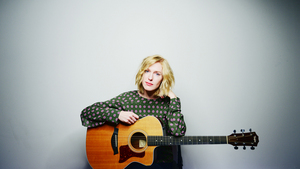 Brooke Campbell
Brooke Campbell is an American songwriter and guitarist who performs original folk music with jazz and country inflections. "The Escapist," her most recent EP, received radio play nationwide and a fellowship from the Speranza Foundation. Campbell continues to write and perform across the country.


Linda Draper
Brooklyn based lyric-slinger/folk singer Linda Draper (no relation to Don) has been writing, recording and performing songs for over the past 18 years. She has released 8 full-length albums to date has had the pleasure of opening for Teddy Thompson, Melissa Ferrick, Luka Bloom, and Dan Navarro, among others. Linda's song "Hollow" was included in the Starbucks in-store music playlist and most recently, her songs "Sleepwalkers" and "Shadow of a Coal Mine" were featured in local Pittsburgh PBS Television (WQED)'s documentary "Forgotten /Found."

Fred Gillen Jr
Peekskill's own NYFA (New York Foundation For The Arts) grant recipient Fred Gillen Jr has released ten full-length albums, to great critical acclaim, and has toured all over the U.S., Europe, and most recently Asia. His songs have been featured on ABC's "All My Children," NPR's "Car Talk," CMJ's New Music Marathon Sampler, and in 2012 his version of Woody Guthrie's "I Ain't Got No Home" was featured on "Pete Remembers Woody," a collection of Pete Seeger's spoken stories about Woody Guthrie. Like Guthrie, his songs often reflect the struggles of the marginalized and forgotten, shining a light on both the despair and hope in the human condition.