Sunday, December 2, 2018
4:00 to 6:00
Piermont, NY
Sharkey & The Sparks!
468 Piermont Avenue Piermont, NY 10968
phone: Tel:845-359-1089
website: www.turningpointcafe.com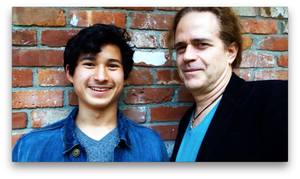 We are very pleased to present Sharkey & The Sparks, featuring Sharkey McEwen - well known to music lovers throughout the Hudson Valley and beyond as the lead guitarist of The Slambovian Circus of Dreams - and Ben McEwen, Sharkey's teenage son, and occasional guests. This will be their debut on our Turning Point stage.
Sharkey stepped out and began performing solo in the spring of 2016. This provided him the space to stretch out musically and to share his pure and soulful singing voice with us. Around the same time, Sharkey and Ben began playing music together for fun. But once Sharkey started inviting his talented young protégé to join him on stage and perform in public, the "sparks" began to fly.
Sharkey & The Sparks play mutually beloved covers from the '60s, '70s and '80s. Ben also generously grants Sharkey the freedom to perform material his dad likes from the past few decades, and their repertoire includes a handful of Sharkey's original tunes as well.
With The Slambovian Circus of Dreams, Sharkey has headlined major music festivals across the US, Canada and UK. His intuitive, evocative playing is a key ingredient of the band's magic.
Doors open at 3pm, showtime at 4pm.
Ticket price $15
468 Piermont Ave. Piermont NY 10968
export this event to my calendar