Friday, January 31, 2020
Irvington, NY
The Irvington Folk Festival
85 Main Street, Irvington, NY
phone: 914-693-1065
website: commongroundfusw.com/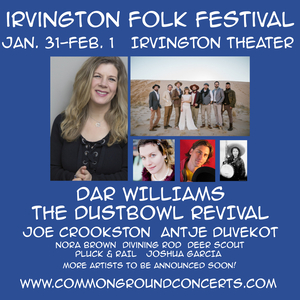 The Irvington Folk Festival: Friday January 31-Saturday, February 1

ABOUT THE FESTIVAL
Common Ground and Irvington Theater are proud to announce the first annual Irvington Folk Festival, to be held on January 31-February 1, 2020, featuring Dar Williams, Joe Crookston, Antje Duvekot, Norah Brown, Divining Rod, and more!

Join us at the crossroads of creativity and community for two evenings and one afternoon of live music, special VIP workshops and Q&A sessions at Irvington Theater and elsewhere in Irvington, NY.

The Irvington folk Festival offers performances by internationally-touring and emerging "on-the-rise" artists alike. The festivities begin with a special Q&A and reception with — and then a performance by — Friday night's headliner, Dar Williams, whom Henrik Hertzberg of the New Yorker described as "one of America's very best singer-songwriters." One of the highlights on Saturday will be a very special afternoon workshop led by the award-winning singer-songwriter, multi-instrumentalist, painter, and storyteller Joe Crookston. Joe will also perform at the theater on Saturday night.

Common Ground Community Concerts is the producer the long-standing Common Ground Coffeehouse at the First Unitarian Society of Westchester at 25 Old Jackson Avenue, outside of Hastings-on-Hudson NY. Four times a year, we also present concerts at historic Irvington Theater at 85 Main Street in Irvington NY and partner with community groups and non-profits to produce concerts in other locations as well.