Sunday, October 27, 2019
7:00 PM
Long Island City, New York
Jo Williamson / Tom & Silbin's Pickin' Parlor / Maya Luz
4558 Vernon Blvd. Long Island City, New York 11101
phone: (718) 786-5400
website: www.licbar.com/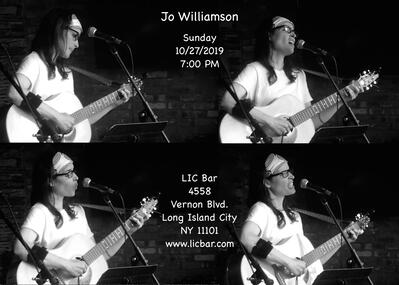 Jo performs in the Carriage House at the LIC Bar on Sunday October 27th at 7 pm, after a two hour Americana Jam from 5-7.
FIREPLACE CONCERT
5-7pm Tom & Silbin's Pickin' Parlor
Join Tom Shaner and Silbin Sandovar for a rousing session of
classic American tunes featuring guest pickers, Felix Slim,
Jefferson Thomas, Alex Kerckhoff & more!
7pm Jo Williamson
8pm Maya Luz
LIC Bar is a brick-walled corner watering hole that offers plenty of beers on tap, long tables & backyard garden.
export this event to my calendar