Saturday, October 27, 2012
8PM
Hastings-on-Hudson, NY
South County's Halloween Hoedown
52 Main Street, Hastings-on-Hudson, NY 10706
Price: $15.00
website: purplecrayoncenter.org/live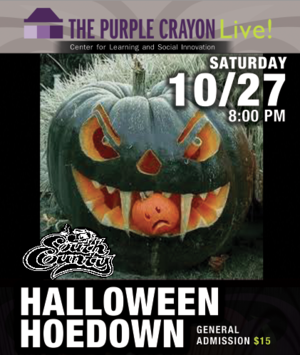 The BEST Halloween costume party/concert in Westchester is back!
Local favorites and soon-to-be-Folkabilly-legends, SOUTH COUNTY, return to the Purple Crayon on Oct 27 for their third annual Halloween Hoedown.
The show will feature all of South County's classic tracks like Carcass, Elijah and NOLA (www.southcountytheband.com/music) as well as 12 murderously spooky Halloween Classics from the Talking Heads, the Misfits, Rob Zombie, the Louvin Brothers, the Decemberists and more!!! Monster Mash, anyone?
Costume contest with prizes, multimedia show, drinks, dancing, debauchery...tell all your friends and start planning your alibi...