Upcoming Events: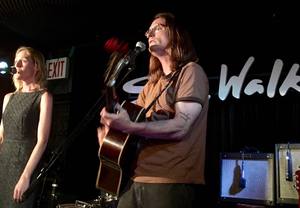 Sunday, August 20th, 2017 3 p.m.
Linda Draper & Fred Gillen Jr Perform as a duo!
196 Allen Street
NYC, NY 10002
website: http://rockwoodmusichall.com/
Sunday, August 20th, 2017 10AM
Phil Dollard returns to the Eastchester Farmers' Market
334 White Plains Road
Eastchester, NY
website: http://www.countrymarketsofwestchester.c...
This is a brand new market that began just this Summer and it's a vibrant, happening endeavor with many interesting vendors e.g. cranberry-walnut pound cake, blondie brownies and oatmeal cookies to scented candles and wood-fired Vermont maple syrup. Oh, and live music too! Stop by if you're in the area.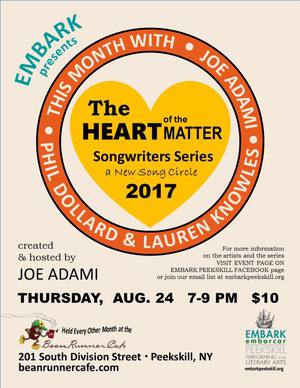 Thursday, August 24th, 2017 7:00 pm
Pil Dollard as part of The Heart of the Matter Songwriter Series
201 South Division Street
Peekskill, NY 10566
USA
phone: (914) 737-1701
website: http://beanrunnercafe.com/
I'm pleased to be part of the bill at this terrific songwriter series sponsored by Embark Peekskill and hosted by Joe Adami. Start the weekend early and listen to some new tunes while sampling the eclectic menu at the Bean Runner. (Starts and finishes early, even if the weekend doesn't start on Thursday for you!)
Sunday, August 27th, 2017 4PM Door
TRIBES HILL PRESENTS: KINDRED FOLK at Division Street Guitars
Division Street Guitars
36 N. Division Street
Peekskill, New York 10598
PRICE: $15.00
With Larry Kolker, Austin Charnis, Sonya Heller
Door 4PM Music starts at 4:30
$15 suggested donation at door
Monday, September 11th, 2017 6:30
Tribes Hill Monthly Gathering
Hosted by Robin and Rick Kline
27 Roma Orchard Road, Peekskill
Robin: 917-371-1364
Rick: 917-226-4941

Car pool if you can and enjoy the ride together!
Bring your instruments, tunes and voice!

And as always, we welcome your appetizer, side dish, dessert, etc to accompany our Pasta and Salad dinner.
And your contributions to our "pig" so we can reimburse some hosting expense.

In awareness that many folks have food sensitivities, please contribute fresh natural whole foods.
Read labels; avoid ingredients such as corn/fructose, MSG, etc. to prevent health issues.
-So folks can choose wisely, Label Item with:
--Descriptive name
--"Dairy-Free, Gluten Free, Vegan", etc. if appropriate
--Any potentially trigger ingredients (like nuts, soy, corn etc.)

Read more about our Gatherings; go to Community >Tribes Hill Meetings and Gatherings

Sunday, September 17th, 2017 4 p.m.
Fred Gillen Jr & Sarah Chesler
201 South Division Street
Peekskill, NY 10566
USA
phone: (914) 737-1701
PRICE: $10.00
website: http://beanrunnercafe.com/
Friday, September 22nd, 2017 8 p.m.
Life is Large! A Concert to Benefit Axial Theatre Featuring The Kennedys and Hope Machine
Chappaqua Performing Arts Center
480 N. Bedford Road
Chappaqua, NY 10514
PURCHASE TICKETS ONLINE: click here
ARTISTS: For over two decades, husband and wife Pete and Maura Kennedy have traversed the highways and byways of the US and the UK, as a folk/pop duo and as members of Nanci Griffith's Blue Moon Orchestra. As The Kennedys, they have released over a dozen CDs, are longtime core artists on WFUV, and were named Artists-in-Residence at The John F. Kennedy Center for the Performing Arts.

Their original music is uplifting, encouraging and empowering, and their choice of covers is emblematic of their love for the classic songwriting of Buddy Holly, The Beatles and Bob Dylan. Long time New York City residents, they are regulars at the Clearwater Festival and have played legendary venues including Carnegie Hall, the Beacon Theater and the late lamented Bottom Line.

ABOUT AXIAL: An ensemble-based Westchester theater organization comprised of artists committed to creating professional theater and a vital educational experience for emerging artists. Axial is committed to producing plays, both new and old that speak to issues relevant to today's world. We also offer programs in acting for children, teens, and adults, and workshops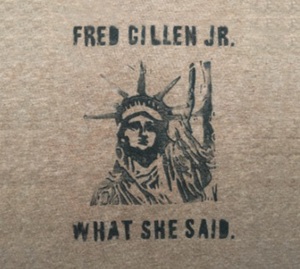 Friday, October 6th, 2017 8 pm
Fred Gillen Jr solo Show
7 Main Street
Tarrytown, NY 10591
phone: 914-332-1479
website: www.fredgillenjr.com
Sunday, October 15th, 2017 3pm
Fred Gillen Jr What She Said
22 Railroad Avenue
Montgomery, NY
phone: (845) 457-1463
website: http://hvmusic.com/listing/serv_detail.p...
I'm so happy to be back, at their new location. I'm so happy to do a show at a RECORD STORE! There will be light refreshments.
Saturday, October 21st, 2017 7 p.m.
Greenheart Fundraiser show
8 Main Street
Hastings on Hudson, NY 10706
phone: (914) 674-8548
website: http://upstreamgallery.com
James Dean Conklin, Julie Corbalis, Laura Bowman, Andy Mattina, Fred Gillen Jr., and special guests. This band is amazing! We are fundraising for our trip to Nepal for the "Tie The Trash" project. If you can't make it, please consider donating here: https://www.gofundme.com/greenheartnepal2017