Upcoming Events:
Friday, March 23rd, 2018 9 p.m.
Fred Gillen Jr
1111 Main Street
Fishkill, NY
phone: 845-896-0011
website: http://www.eleven11grille.com/
Come for dinner, stay for the music!
Saturday, March 24th, 2018 10AM
Phil Dollard at the Mamaroneck Farmers' Market
W. Boston Post Rd. & Mt. Pleasant Ave. (St. Thomas Episcopal Church)
Mamaroneck, ny
website: www.downtoearthmarkets.com
I'll be returning to the vibrant Mamaroneck Farmers' Market just after the official beginning of Spring so come on out to shop in celebration of warmer weather and healthful farm-to-table comestibles. I'll be pickin' and grinnin' as you do.
Wednesday, March 28th, 2018 7 p.m.
Fred Gillen Jr Solo Show
105 Somerstown Turnpike
Katonah, NY 10536
United States
phone: 914-232-2800
website: http://www.muscoottavern.com
3 hours of music featuring original songs and classic folk-rock songs.
Friday, April 6th, 2018 7pm
Scoot Horton with Marlena Peters
101 South Division Street
Peekskill, New York 10566
website: http://peekskillcoffee.com
Come hear Scoot Horton play his original original Alt Country/Americana songs and covers. Scoot with be joined by Marlena Peters. Together Scoot and Marlena play some duets and Marlena sings songs of her own.

Friday, April 6th, 2018 8 p.m.
Fred Gillen Jr Monthly Residency
7 Main Street
Tarrytown, NY 10591
phone: 914-332-1479
website: www.fredgillenjr.com
Sunday, April 8th, 2018 8 p.m.
Cheri Dahl With Sugar on Top
538 East 14th Street
New York, NY
phone: 914-228-2240
website: http://www.ottosshrunkenhead.com
Saturday, April 14th, 2018 8pm
Larry Kolker Trio at the Green Growler
4 Croton Point Avenue
Croton-on-Hudson, NY 10520
website: https://www.facebook.com/TheGreenGrowler...
At the Green Growler, the Larry Kolker Trio includes the indomitable Sticks Levine on drums and the astounding Danny Elias on clarinet. Right at the edge of the Croton Harmon Metro North Station. Great brews, great vibe, great folks.
Sunday, April 15th, 2018 5:00PM
ITAMAR EREZ
River Spirit Music House Concert Series
47 Jefferson Avenue
Hastings-on-Hudson, NY 10706
United States
phone: 347-MUSIC-76
PRICE: $20.00
PURCHASE TICKETS ONLINE: click here
website: www.riverspiritmusic.com
To capture the essence of the music of Itamar Erez is to be taken on a journey where different cultures meet in harmony. Itamar's music holds a depth and sensitivity that touches listeners deeply; It blends the delicateness of Middle Eastern music, the freedom found in Jazz and the passion of Flamenco, creating a unique sound all his own.

Recipient of the 2014 ACUM Prize for Special Achievement in Jazz and the prestigious 2014 Landau Prize, Itamar Erez is an internationally renowned composer and guitarist who has shared the stage with such musicians as Omar Faruk Tekbilek, Tomatito, Avishai Cohen, Jean-Louis Matinier, Zohar Fresco, and others.

Itamar has performed in Canada, USA, Germany, Holland, Austria, Cyprus, Israel, India, Tunisia and Colombia.

Itamar comes to us the day after performing at Zankel Hall (at Carnegie Hall) with Omar Faruk Tekbilek!!!
Watch Itamar Erez perform Choro For Lulo
Doors open/potluck dinner at 4:00pm
Suggested Donation - $20
Presented by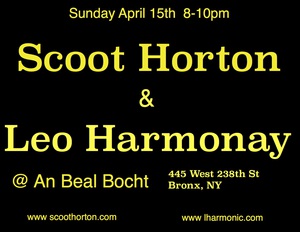 Sunday, April 15th, 2018 8pm
Scoot Horton and Leo Harmonay
http://www.anbealbochtcafe.com
445 W 238th St. (Graystone Ave)
Bronx, New York
website: http://www.anbealbochtcafe.com/
Stop by and hear Scoot Horton and Leo Harmonay each play a set of original music.

Scoot started out playing punk then went solo and started playing and writing Alt Country/Americana songs. He has since released his solo debut "Six 2 Seven" in 2015 and is writing for his next release.

Leo Harmonay just released his 3rd cd "LHarmonic" . Leo writes and sings original folk tinged soulful music with poetic imagery.
Leo is a prolific songwriter and is always coming up with new songs.

Sunday, April 15th, 2018 9pm
Larry Kolker @ Silvana
https://silvana-nyc.com/index.php
300 W 116th St
New York, NY 10026
Larry returns to Silvana, with Jeremy Kolker on drums and Peter Calo sitting in on lead guitar. Peter will play his own set from 8-9pm. Great listening venue in Harlem; easy parking or train. Delicious and inexpensive Mediterranean food. No cover. We'll focus on songs from the new album: "Sung with great soul, Larry Kolker offers a refreshing addition to the great singer-songwriter tradition with the powerful 'Dog Year'…, show[ing] off Larry's undeniable chops, creating a sound that feels timeless and infinitely tasteful." –Skope Magazine.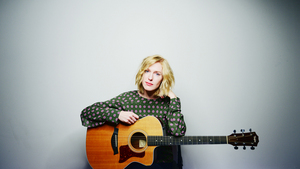 Friday, April 20th, 2018 8 p.m.
Songwriters in the round with Brooke Campbell, Linda Draper, and Fred Gillen Jr
201 South Division Street
Peekskill, NY 10566
USA
phone: (914) 737-1701
PRICE: $10.00
website: http://beanrunnercafe.com/
Brooke Campbell
Brooke Campbell is an American songwriter and guitarist who performs original folk music with jazz and country inflections. "The Escapist," her most recent EP, received radio play nationwide and a fellowship from the Speranza Foundation. Campbell continues to write and perform across the country.


Linda Draper
Brooklyn based lyric-slinger/folk singer Linda Draper (no relation to Don) has been writing, recording and performing songs for over the past 18 years. She has released 8 full-length albums to date has had the pleasure of opening for Teddy Thompson, Melissa Ferrick, Luka Bloom, and Dan Navarro, among others. Linda's song "Hollow" was included in the Starbucks in-store music playlist and most recently, her songs "Sleepwalkers" and "Shadow of a Coal Mine" were featured in local Pittsburgh PBS Television (WQED)'s documentary "Forgotten /Found."

Fred Gillen Jr
Peekskill's own NYFA (New York Foundation For The Arts) grant recipient Fred Gillen Jr has released ten full-length albums, to great critical acclaim, and has toured all over the U.S., Europe, and most recently Asia. His songs have been featured on ABC's "All My Children," NPR's "Car Talk," CMJ's New Music Marathon Sampler, and in 2012 his version of Woody Guthrie's "I Ain't Got No Home" was featured on "Pete Remembers Woody," a collection of Pete Seeger's spoken stories about Woody Guthrie. Like Guthrie, his songs often reflect the struggles of the marginalized and forgotten, shining a light on both the despair and hope in the human condition.

Sunday, May 20th, 2018 2 p.m.
The Greenheart Solar-powered Concert
668 Route Six
Mahopac, NY 10541
phone: (845) 628-2009
website: https://mahopaclibrary.org