Sunday, May 20, 2018
4 pm to 7 pm
Pleasantville, NY
Tribes Hill Presents...Kindred Folk @ Lucy's
446 Bedford Road Pleasantville, NY 10570 United States
Price: $10.00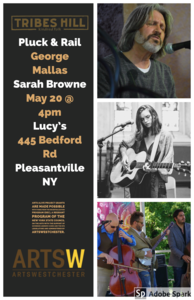 As local as local gets...
Sarah Browne is an up and coming singer-songwriter based out of Westchester, NY. She got her start writing songs when she was 18 and has been performing ever since. Her music is within the folk-pop genre and her songwriting has been compared to that of Ingrid Michaelson and Natalie Merchant. Sarah recently released her debut album, To You, which has been featured on radio stations like The Peak 107.1, WHUD 100.7 and more.
George Mallas is a Singer/Songwriter based in North Salem, NY. He is influenced by some of the great singer/songwriters of his youth, namely Joni Mitchell and Jackson Browne. Having been a student of the piano since age 6, the instrument is a natural extension of who he is. George has released two albums; 'Small Reminders' in 2015 and 'unscathed' in 2018. The recent album features new songs and writing collaboration with lyricist Melanie Berti. His experiences in life, love and family inspire his songs.
Pluck & Rail is an endlessly entertaining acoustic trio who simultaneously weave together disparate influences as The Decemberists, Led Zeppelin, Robert Earl Keen, Bright Eyes, Morphine, the sweet whisper of a gentle breeze, the crunch of a ripe apple being bitten, my grandmother and in fact, your grandmother. Since performing on TV and radio and at many regional festivals, their powers have grown. The last Pluck & Rail show saw them perform 25 songs (mostly original) with swagger, skill and melody while curing a young boy of scoliosis, a middle aged mom of her life long speech impediment (she couldn't pronounce vowels) and an old man of oldness, which all begs the question: why can't they fix themselves? See you at the next show!
$10 Suggested Donation at the door. BYOF. Full Bar available.
Arts Alive Project Grants are made possible with funds from the Decentralization Program (DEC), a regrant program of the New York State Council on the Arts with the support of Governor Andrew Cuomo and the NYS Legislature and administered by ArtsWestchester.
export this event to my calendar