River Songs 2009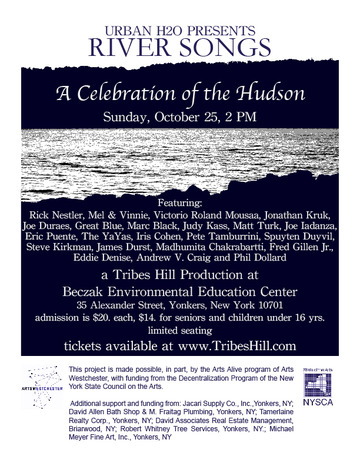 released 2009


On Sunday October 25th, 2009 Urban H20 presented River Songs, a Tribes Hill production at Beczak Environmental Education Center in Yonkers, New York as part of the 400 years celebration of the Hudson River Quad-centennial.

All videos presented here filmed by Simon Feldman and produced by Rick Rock



"Clearwater" written by Steve Kirkman, with Hope Machine and the Tribes Hill Choir.



"Spuyten Duyvil" by Spuyten Duyvil



"Delivered by this River" written and performed by Andrew Craig, Catherine Miles and Mark Miller: joined by their Tribes Hill friends

[ video no longer available ]

"Paper Boats" by The YaYas



"Hudson River, There & Back Again" by Joe Duraes

MORE SONGS FROM THIS SHOW WILL BE ADDED IN THE FUTURE... STAY TUNED...