Sunday, October 19, 2014
5:00 PM
Hastings-on-Hudson, NY
The Lords of Liechtenstein
Hastings-on-Hudson, NY 10706 United States
phone: 347-MUSIC-76
Price: $20.00
website: www.riverspiritmusic.com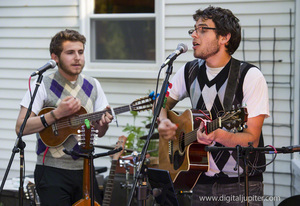 All shows will be in Hastings-on-Hudson, New York
Music starts promptly at 5:00 PM
Doors open for Potluck dinner at 4:00 PM - Bring a dish!

All Shows – Suggested donation:
$20 in advance ($20.88 after PayPal processing fee) or $22 at the door - 100% goes to the musicians

Open seating.
Online orders end at midnight the Friday before the concert.
Donations are not refundable.
All online orders will be confirmed by email.
Concert address will be provided when reservation is confirmed.

Recently featured on John Platt's On Your Radar series, and named to the Emerging Artists Showcase at this summer's Falcon Ridge Folk Festival

New York City-based acoustic duo The Lords of Liechtenstein first met in a hospital in July of 1994. "Hey, let's start a band!" said Dan Rauchwerk to his new little brother, Noah. "Waaah!" said Noah as he had just been born and wasn't quite able to speak yet, much less sing or play the ukulele. The brothers mutually agreed to wait a few years, until Noah was at least potty trained, before pursuing a musical career.

Although the debate rages on as to whether or not Noah is yet potty trained, the duo formally joined forces as The Lords of Liechtenstein in 2007. Noah (ukulele/guitar/vocals) and Dan (guitar/banjo/mandola/vocals) have brought their unique blend of folk music to clubs and coffeehouses all over the East Coast of the United States. They've played at a wide expanse of renowned venues including the Minstrel Coffeehouse and the Lansdowne Folk Club and have opened for the likes of musical legends like The Grand Slambovians, Magpie, Toby Walker, and Joe Crookston. Their most recent album, Girlz (With a 'Z') shows off the duo's versatility in songwriting and performing, moving effortlessly from reggae songs about the Israeli-Palestinian conflict to upbeat folk songs about having one's heart broken and torn apart by wolves. Now that you know a bit about the band, isn't it time that you pulled on your sweater vest and listened to the future of folk music?