Monday, February 2, 2015
CANCELLED!
Croton-on-Hudson NY, NY
CANCELLED: Tribes Hill Monthly Gathering & Ted Berkowitz Exhibit Kick-Off
171 Cleveland Drive Croton-on-Hudson NY, NY 10520 United States
website: www.TribesHill.com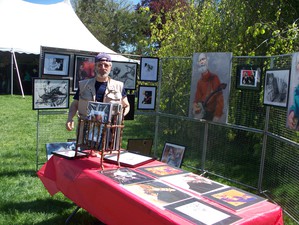 Due to poor weather and travel conditions, tonight's monthly Tribes Hill gathering and art opening for Ted Berkowitz has been cancelled. We hope to reschedule later this month.


Although he doesn't sing or write songs, Tribes Hill member Ted Berkowitz is a painter, a sketcher, a schemer and a dreamer. He can be found at most Tribes Hill events and gatherings, sitting quietly with a pencil and a sketch book - catching musicians when they least expect it. His images appear on our website and in some of our members' homes as well. Find out what Ted's art is all about at this combined monthly gathering of our musicians community (open to all) and the launch of a unique exhibit of his work at the Croton Free Library, 171 Cleveland Drive, Croton-on-Hudson, NY 10520. Please bring an appetizer or a side dish (salad, fresh bread or rolls or hot vegetable) or dessert to share. NON-ALCOHOLIC beverages are welcome too. Let's support Ted for this special evening, as he has supported Tribes Hill for many years. And as always, bring your instruments and voices!
export this event to my calendar