Saturday, November 2, 2019
8 p.m.
Bronx, New York
Fred Gillen Jr Solo Show
249 City Island Avenue, City Island, Bronx, New York 10464 USA
phone: 718.885.3779
website: www.starvingartistonline.com/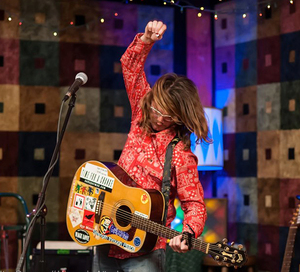 NYFA (New York Foundation For The Arts) grant recipient Fred Gillen Jr has released ten full-length albums, to great critical acclaim. He has performed all over the U.S. and Europe as a solo artist, and recently his work with the band The Greenheart has taken him to Nepal and India several times. His songs have been featured on ABC's "All My Children," NPR's "Car Talk," CMJ's New Music Marathon Sampler, and in 2012 his version of Woody Guthrie's "I Ain't Got No Home" was featured on "Pete Remembers Woody," a collection of Pete Seeger's spoken stories about Woody Guthrie. interspersed with various artists' renditions of Guthrie's songs. Like Seeger and Guthrie, Gillen's lyrics often reflect both the hope and despair of the human condition, while his music illustrates the diversity of influences in the air when he was growing up in the 1970's. His live performances are spontaneous and free, and he enjoys audience participation.