Tribes Hill Presents Kindred Folk at Hammond House - Sunday, October 21st * LIMITED SEATING FOR THIS INDOOR EVENT *
ONLY A FEW SEATS LEFT - RESERVE YOURS NOW AT 914-564-9212
Tribes Hill Presents Kindred Folk
Hammond House
111 Grasslands Rd
Valhalla, NY 10595
(914) 564-9212

$10 Suggested Donation at the door. Doors 4:00PM, music starts at 4:30.
Tribes Hill Presents Kindred Folk, bringing you the best in singer songwriter talent. Proud to be partially supported by an ArtsWestchester ArtsAlive grant.

The series is at the Hammond House for this show only. Next month we will be moving to The BeanRunner Café in Peekskill.
We're very excited about this more intimate, unplugged (Yay!) setting. This house concert will feature a potluck, please bring food or drink to share. Because of more limited seating, we are asking folks to RSVP. Please email Rick at fmrock@live.com to reserve seating.
One of the earliest surviving colonial farmhouses in Westchester County, Hammond House was built in 1719 by Capt. William Hammond, a Philipse Manor tenant. Col. James Hammond, a younger son of William, commanded the Westchester Militia during the Revolution. Owned since 1995 by Rick Rock, founder of Tribes Hill, Hammond House has hosted concerts by such renowned artists as The Kennedys, We're About 9, Girlyman, Joe Crookston, Pete Seeger, Terence Martin, Jack Hardy, Maggie & Terre Roche and Gandalf Murphy & the Slambovian Circus of Dreams.

This month we are presenting:

Tom Heany is a songwriter and guitarist from the Hudson River Valley in New York. His songs call to mind the traditional music of the United States, the classic songs of the '30s and '40s, and the stories we tell when families get together. His CD Reservoir was released in 2018. It's easy to hear Woody Guthrie, Stan Rogers and Paul Brady in his songs (and a little Chuck Berry, too), and Mississippi John Hurt in his guitar playing. Before turning his hand to songwriting, he spent years studying the songs of Jerome Kern, Rodgers and Hart, George and Ira Gershwin, Irving Berlin, Cole Porter and their contemporaries. He says, "Most of what I know about harmony comes from those great old tunes." Tom is also the author of First, Learn to Practice and Practicing for Parents.
www.tomheany.com
Singer songwriter and composer Julia Douglass is a classically trained musician who has been a repeat featured performer on NPR's "The Mountain Stage Show." Her four studio albums have earned her the following reviews, "a sterling collection"--Billboard Magazine; "smart songs, excels at character" -- Jim Farber, The NY Daily News; "her songs are odd treasures" --Time Out New York. A native of Minnesota, she currently lives in the New York metro area. Julia will be accompanied by renowned guitarist and songwriter Peter Calo.
www.Juliadouglass.com
Robinson Treacher has been featured on Sirius/XM's "The Loft: Live from The Living Room" series, the WFUV "Sunday Breakfast", and has shared the stage with such notable artists as Vince Gill, Iris Dement, GE Smith, Joan Osborne, Cheryl Wheeler, Amy Helm and Carrie Rodriguez. He has even been touted by legendary songwriter Don Schlitz ("Forever and Ever Amen", "When You Say Nothing At All", "The Gambler") as being, "...impossible to follow in concert." His passionate approach to music has garnered him some real attention as of late. His latest EP, "BORN" just won the 2018 Independent Music Award for BEST EP (Roots/Americana/Singer Songwriter). He has been nominated for a Nashville Music City Award for his song "This Bar" as well as for an NSAI/CMT country music People's Choice Award and an Independent Music Award nomination for his song "Long Day Good Night". He is a staple on the folk music touring scene, regularly featured at NERFA, the Kerrville Folk Festival, Falcon Ridge Folk Festival (Emerging Artist), Connecticut Folk Festival, New Jersey Folk Fest, Cape May Folk Fest, Key West and Key Largo Folk Fests and has been a two time recipient of the Audience Choice Award at Virginia's famed Lyrics on the Lake Festival. Robinson has recently been spotlighted by the Rhode Island Songwriter's Association (RISA) along with the Philadelphia Songwriter's Project with award nominations as well and is currently supporting his upcoming release "Born" with shows in NYC, Nashville, and all points in between.
www.robinsontreacher.com


Directions:
Hammond House is located on Grasslands Rd. (Rte.100-C) in Westchester County, between the Sprain and Sawmill Parkways. From Conn., take 287 West to the Sprain Parkway North (Exit 3), to first Exit, Eastview, turn left down hill, Hammond House is about a half mile on the right. From NY State Thruway, cross Tappan Zee Bridge, take 287 East to Sawmill Parkway North, take first Exit, Eastview, turn right at end of ramp, bear left at fork on to Grasslands Rd. (100-C), Hammond House is about a mile on the left, across the street from Trustco Bank. Please note that some GPS devices require "1 Hammond House Road" instead of "111 Grasslands Rd.".
THE GRAND SLAMBOVIAN HALLOWEEN BALL - SATURDAY, OCTOBER 27TH
The Slambovian Circus of Dreams 20th Anniversary Halloween Event
Presented by Common Ground Concerts

Irvington Town Hall Theater
85 Main Street
Irvington, NY 10533
(914) 591-6602

Costumes Optional

One could say that Gandalf Murphy and the Slambovian Circus of Dreams were born here at the Hammond House on Halloween in 1998. I had heard them play a few songs at an open mic near Bedford, New York. Determined to hear a complete set from their impressive growing repertoire, I booked them for their first paid gig and collaborated with them to host a wild Halloween bash here at the historic Sleepy Hollow residence that once entertained George Washington, as well as the real life Katrina Van Tassel. This first event was followed by multiple performances by the Circus, which later evolved into the Tribes Hill music collective. Join us in Irvington for this historic anniversary event.

Enjoy the photos of the 1998 event below. - Rick Rock

Twenty Years Later...

Called everything from 'hillbilly-Pink Floyd' to 'surreal Americana', the Hudson Valley's own Slambovian Circus of Dreams is bringing its legendary annual Halloween musical costume ball to Irvington! Formed in Sleepy Hollow, NY about two decades ago, The Slambovian Circus of Dreams "is a riveting, mesmerizing, crazy, amazing machine of music." (Chronogram Magazine). And this year's Grand Slambovian Halloween Ball theme is "Legends of Sleepy Hollow", so break out your finest Headless Horsemen, Rip van Winkles or other 'skeletons in the style closet' in honor of Washington Irving (or any of your other favorite literary icons, real or imagined).

With a rootsy psychedelica that MAVERICK MAGAZINE calls "mightily impressive and hugely original rock from the cool end of Americana," The Slambovian Circus of Dreams' melodic avant-folk conjures with an exotic instrumental arsenal and palette of styles ranging from dusty Americana ballads to huge Pink Floydesque cinematic anthems. The Slambovians have pioneered the alt-folk circuit, staying on the fringes of the music industry. Fans fueled their career from the ground up to an international status. Having headlined major music festivals and venues across the US, Canada, and UK, this band has a devoted cult following."

All Patrons: $27.00
TRIBES HILL – YOUR COLLABORATIVE MUSIC COMMUNITY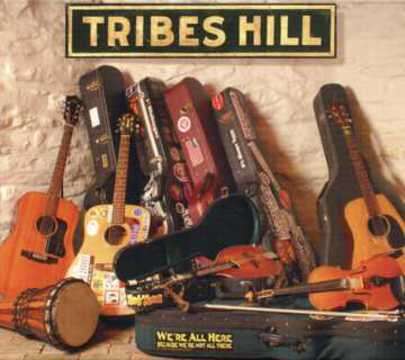 BECOME A MEMBER!
Just sign up to be included on our mailing list ==>
SIGN UP
You will get only occasional notes. That's it – you're a member! Then…frequent the site to keep up with Tribes' News.
MEMBERSHIP BENEFITS
As a member of this active music community with a growing presence, you can…
DONATIONS AND CONTRIBUTIONS SUPPORT US, so please give generously!
Post your gigs on our website calendar
Attend and participate in our music happenings
Be an active member; have a say with Committee Service
Be part of a friendly, thriving community of musicians and music lovers!
or mail a check to: Tribes Hill / Kindred Folk Hammond House 111 Grasslands Rd. Valhalla, NY 10595 PARTICIPATE IN TRIBES HILL ACTIVITIES
Tribes Hill Presents - music at venues in Westchester and beyond , including benefit concerts for members in need to celebrate the gift of giving.
Gatherings – First Monday of the month at our members' homes. Gatherings are open to all - members, non-members, musicians and music lovers alike! Here's where we socialize, informally and collaboratively make music, sing, listen; meet, network and share a meal. Always fun!
Annual Summer Solstice Fundraiser - Tribes Hill open business meeting and Hootenanny including open mic, performances, campfire song circle, and pot luck dinner at historic Hammond House in Valhalla, NY.
Annual Winter Holiday Celebration - December's Gathering where we rehearse Solstice songs, collaboratively make music, sing, or just listen; meet, network and share a potluck dinner.
Annual Winter Solstice Fundraiser - Tribes Hill member performance in a local public venue – the highlight of our year!
Northeast Regional Folk Alliance Conference (NERFA) – Participate in annual fall event for performers and presenters of folk music.
Benefit Concerts - to celebrate the gift of giving for members in need.