Take Me to the River Music & Arts Festival - September 10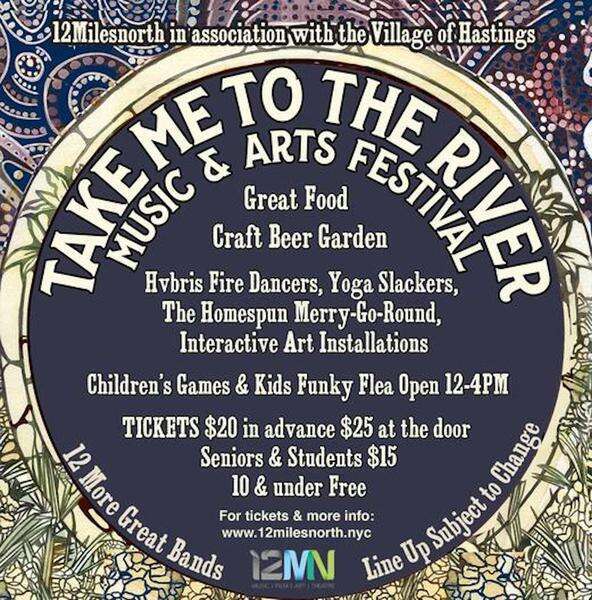 Take Me To The River Music & Arts Festival
12 Miles North
Hastings-on-Hudson, NY
Saturday / September 10

One of the best family festivals in the lower Hudson Valley TAKE ME TO THE RIVER MUSIC & ARTS FESTIVAL in Hastings-on Hudson September 10, 2016. This all ages independent, homegrown festival presents an eclectic mix of local, regional and national acts as well as out of the box activities for kids of all ages. Info and tickets at www.12milesnorth.nyc.
Tribes Hill Presents Kindred Folk at Embark - September 18
DAVID GOLDMAN
"Few people on this earth were born to sing, but lucky for us, David Goldman is one of them." —Christine Lavin
David Goldman is an award-winning & world-traveled multi-lingual singer/songwriter who performs in a wide variety of genres, including Blues, Latin, Acoustic Folk Rock, Pop/Jazz and World––all with heartfelt vocals. He has opened for Kenny Loggins at Tarrytown Music Hall and Andy Statman at Irvington Town Hall Theatre, and has performed at the Pleasantville Music Festival Main Stage, Paramount Theatre in Peekskill, Tribeca Arts Center and many other venues. His CDs have received extensive national and international radio airplay. His latest release, "Going To America" won the Gold Prize in the 2016 Folk-Rock/Americana category of the 32nd Annual Mid-Atlantic Songwriting Contest.
www.davidgoldman.com
THE LEVINS The harmony-driven acoustic duo, The Levins, offer music that is warm and uplifting without skating over the complexities of life. Guitar, piano and voices provide a full sound with unexpected harmonies and unique arrangements. Their albums have garnered invitations to collaborate and perform nationally and in Amsterdam and England. The 2014 Falcon Ridge Emerging Artists' first official release, "My Friend Hafiz", was selected by John Platt, WFUV as a top 10 CD of 2013 and their most recent release, "TRUST" hit the Top 10 on the Folk DJ charts Spring, 2015.
www.thelevinsmusic.com
KATE COPELAND is a singer/songwriter composer/arranger based out of New York City. A graduate of Oberlin Conservatory's composition program, she has worked both in and out of the studio in many capacities with artists including Doug Wieselman, Abakis, Doug Goldstein, Mike O'Malley, and Zach Comtois. She released her first solo album, "recollection room," in June 2015, and her follow-up EP "Red and Blue" in May 2016.
"... one of the most versatile, heartfelt and honest singer-songwriters...Kate's sincerity is completely refreshing...a gem of musical discovery." —Meander Blog
www.katecopelandmusic.com
SHAWNA CASPI is a guitar-picking, classically-trained folkie with a sweet-tooth for a good story, a sly lyrical wit, and a rich, powerful voice. Shawna Caspi sings of love, travel, home, and heart, distilling each experience into a series of vibrant snapshots, coloured with humour and grace and arranged with care and craft. Her latest release, Apartments for Lovers, is a solo guitar and voice album that showcases her rich voice and remarkable fingerstyle guitar technique.
www.shawnacaspi.com
TRIBES HILL – YOUR COLLABORATIVE MUSIC COMMUNITY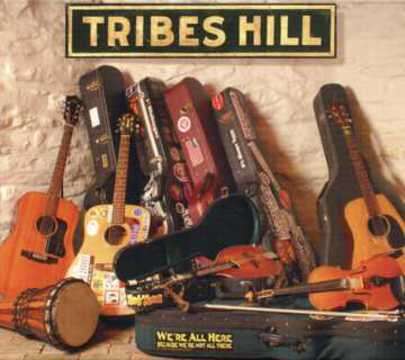 BECOME A MEMBER!
Just sign up to be included on our mailing list ==>
SIGN UP
You will get only occasional notes. That's it – you're a member! Then…frequent the site to keep up with Tribes' News.
MEMBERSHIP BENEFITS
As a member of this active music community with a growing presence, you can…
DONATIONS AND CONTRIBUTIONS SUPPORT US, so please give generously!
Post your gigs on our website calendar
Attend and participate in our music happenings
Be an active member; have a say with Committee Service
Be part of a friendly, thriving community of musicians and music lovers!
or mail a check to: Tribes Hill / Kindred Folk Hammond House 111 Grasslands Rd. Valhalla, NY 10595 PARTICIPATE IN TRIBES HILL ACTIVITIES
Tribes Hill Presents - music at venues in Westchester and beyond , including benefit concerts for members in need to celebrate the gift of giving.
Gatherings – First Monday of the month at our members' homes. Gatherings are open to all - members, non-members, musicians and music lovers alike! Here's where we socialize, informally and collaboratively make music, sing, listen; meet, network and share a meal. Always fun!
Annual Summer Solstice Fundraiser - Tribes Hill open business meeting and Hootenanny including open mic, performances, campfire song circle, and pot luck dinner at historic Hammond House in Valhalla, NY.
Annual Winter Holiday Celebration - December's Gathering where we rehearse Solstice songs, collaboratively make music, sing, or just listen; meet, network and share a potluck dinner.
Annual Winter Solstice Fundraiser - Tribes Hill member performance in a local public venue – the highlight of our year!
Northeast Regional Folk Alliance Conference (NERFA) – Participate in annual fall event for performers and presenters of folk music.
Benefit Concerts - to celebrate the gift of giving for members in need.